Crystal chandelier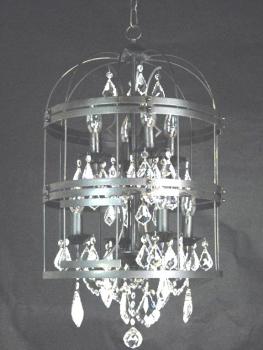 view larger image
8977
Antique bronze/ asfour crystal
Diameter 35cm
Height 49cm
lights 8 lights

1000,00 £ (GBP)
Uds: 1



Special Chandelier:
,
,
Crystal chandelier is manufactured in Spain by expert craftsman. All the manufacturing process is crafted using the same processes 100 years. All our crystal chandeliers are made using our original molds, diseñadoos and produced by us.
Small lamp that permits decorating a very luxurious way spaces with a limited size.
All the components of the lamp are made of brass. Brass is more quality material for making lamps.
This lamp is finished in antique brass and varnished to protect finish. All the components of the lamp are polished to manocon Esparto brushes to remove scratches and imperfections they may have the metal. Later the pieces are introduced into the nickel bañode for strength and metal protection.

So that the color remains unchanged by the passage of time and weather aggression parts are varnished with lacquer and dried at 180 ° C.
The crystal chandelier we are describing is dressed with crystal whose lead content is 30% of this type of crystal is carved with meticulous precision and polished with such high-tech procedures that give a diamond own appearance traversed by light.

Select your country or region
Decorative Chandelier, Crystal chandeliers. Phone (+34) 696 939 852. E-mail:
info@decorativechandelier.com
Offices and factory: C. Virazon, 84D. Polígono Industrial Los Vientos, 46019 - Náquera, Valencia, Spain.
The sizes indicated do not include the chain and the canopy. All our chandeliers are proudly made in Spain.